June 14, 2013
This piece began with the idea of testing the animation capabilities of my computer. I wanted to record my progress and see if I could come up with a snappy YouTube video of it. In the Paint Preview post where this picture appeared in its incipient stages, I had only expected the actual painting to last a day. Now, a "mere" 15 months later, I believe I can call the image complete after my inner hatchet man finally screamed "Enough!" when facing the temptation to make a 5th or 6th pass over the surface.
Now this doesn't mean I worked on this painting every day and night since that start. In fact, I probably only worked on it for about 3 days – probably less than 12 hours. When finishing the video….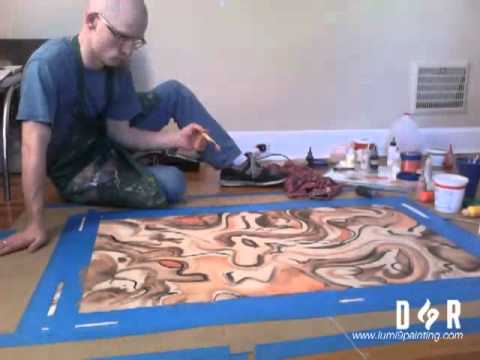 …I slapped the unstretched canvas on my Alabama studio wall, saying to myself that I would kill it when the right moment of "inspiration" eventually hit me:
But that's where it stayed for over a year. During that time I engaged in other projects and works, either illuminated here on this blog or currently still underway. But as things tend to go, I kind of forgot about this 25 x 40″ acrylic painting.
But about a month ago, we moved from "Sweet Home" Alabama to Merced, California. As with most moves across the country the process has completely discombobulated me, my wife, my home, my studio, and let's not forget the two felines of the house, Batman and Sly. If you've been wondering, that is why there has been a severe drop off of posts from me as of late. I have been meaning to do one, show some of the pictures I took along the drive just to let you in on some of the pretty views we came across on the drive – sort of make a representation of how fundamental a change this really is.
But I found the endeavor difficult to control as it over-bloated on me in a hurry. So I've decided to satisfy my need to share by confining myself to just a few digital photos that were taken while driving across the south and southwest of these beautiful united states:
Once our stuff all arrived, Emily and I have been going through the arduous task of putting the pieces of our lives together, acclimating ourselves to the new climate, this new region of the country, and also, while my many projects seem to be off my desk at the moment and in the hands of my various "partners in crime", I've thought it best to take this breather from comics and "daily drawings" to make what I haven't made in a while…. a painting.
After all, I have this brand new garage to take advantage of, which has the largest amount of space in which to stand back and walk around with that I've ever had:
I can't say why this room has been calling me since I've arrived in Merced. But it has. And a couple of days ago my intentions got underway. But instead of starting fresh with a completely new work (always daunting), I decided to take a low-risk piece already begun (I have about 3 of them now) and decided to warm up with that. "Dancer" (what I called A Lively Word, before reaching this final state) ended up being delicately pulled out of it's overstuffed, elongated cardboard box and tacked up on the wall next to the work bench you see above. With that, I began pacing around and in front of it like a matador.
I love the feeling of being away from a medium for a few months, or a year, and then suddenly coming back to it. It's exhilarating, no matter what quality of work you produce. The unfamiliarity breeds a stranger decision making process of acclimation instead of execution; which I find appropriate for this work as it functions topographically as a landscape seen from above. I had to feel its curves, its surface, and interrupt it with new marks, new thoughts, and new feelings. It developed into an appropriate symbol of the bridge between the here and now and the times before when I used to sit at my desk in Alabama, drawing or painting, and wonder How in the world am I going to sell my work, here, in the South?
I can't say I know more about that process now that we've arrived nearer the western coast, or necessarily feel more protected by this region which appears more amenable to the arts and freaks like me. But when my wife and I look at each other and lower our eyes to the growing orb that's taken its place at the center of her abdomen, we see this gust of transformation everywhere in our lives as the ever-present representation of the new. And as we live, striving to find our new "normal" and regain our sense of place – a place which happens to be full of wonderful people and beautiful land – this refreshing outlook can be seen everywhere around us. Especially if one directs their gaze upon the colors funneling through my paintbrush.
2 Responses to "A Lively Word"
You must log in to post a comment.