March 22, 2012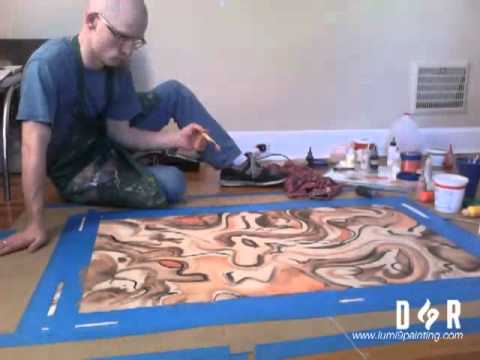 Spring break [whoo!] has come and gone and in the interest of keeping the content flowing, I wanted to do a test recording of me making a painting and turn it into a mini-preview of a 
work
 that is still unfinished.
This piece was intended to be a one-day painting that I began executing on the floor. 
Working
 there would help keep my eyes at a far enough distance from the surface to avoid dissolving hours into each minute inch in the canvas. I wanted to see if I could finish something within a day. I was still thinking about 
the mural at Grace Aberdean
. Wishing I had more video of myself painting that piece made me realize I should probably capture this painting, since all I had to do was adjust my computer. Either way, I didn't think of it until I started about 20 minites in. That's why you see me pretty far along when the video starts.
There's no music in it because, frankly, when I surf the artist channels on the Tube I keep the sound off. I would expect a more gussied up final promo, though, when I get time to finish the piece (because I think it needs a bit more work) and then finish the vid.
Until then, this quick preview should do.
One Response to "Paint Preview"
You must log in to post a comment.